The IR-Opflow Meter Series in PVDF (Kynar)
The IR-Opflow range of flow meters will meet the requirements for most metering applications effectively, accurately and economically. Available in 1% and 3% accuracy versions, these meters can be fitted with hose barb, NPR, BPS or metric threads.

All sizes are inherently linear, so they never require any signal conditioning gymnastics to smooth out a flow curve. Each meter size uses a specific K-factor. Plug that into a display or supervisory system and forget it. From zero to full flow, these meters are accurate and never disappoint.

While these are made of Kynar for its unique properties and lower production costs,
these are not "disposable"
flow meters. The IR-Opflow meters are very accurate, reliable and dependable flow metering solutions.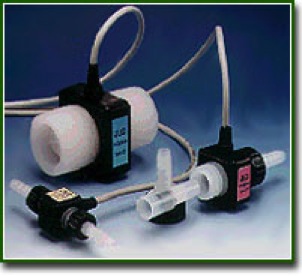 Accuracy:

± 1% or ± 3% of measured value

Six flow ranges

: 0.03 – 32 gpm (0.1 – 120 lpm)

Supply voltage:

5 - 12 Vdc or 8 - 24 Vdc

All wetted parts in PVDF

Available in threaded or hose barb connections

Lightweight rotor provide friction-free rotational movement

Economical – OEM pricing available

Indicator / Totalizer use model PD693

Data Sheet IR Oplfow
Call us at 480-947-9003 for more information.