Current and Voltage Calibrators


The
LC100 current loop calibrator
provides significantly extended performance when compared to any competitive current calibrator. With an accuracy of 0.015% and a 0.001 mA resolution, the 4-20 ma calibrator has the highest accuracy in its class. Unique features, such as a "% Error" function, which eliminates manual error calculation and allows the display of the actual versus ideal error at any calibration point, puts this voltage calibrator way beyond similar instruments. The loop calibrator can simulate, power, and measure two-wire transmitters. With automatic Step and Ramp functions, the precision loop calibrator also enables remote calibration of 4-20mA devices.
Big Discounts - Call us for pricing. 480-947-9003

LC-100 Data Sheet
The
IVC222HPII Current and Voltage Loop Calibrator
is a general purpose current and voltage source that can be used in engineering, manufacturing, test, and process control application. It combines both digital and analog circuitry to achieve its rated specifications in a small, reliable package.
This calibrator has the capability to store and recall up to 2 setpoint values, the SP1 and SP2 keys. An RS-232 port accessed via a custom cable (available from Martel) allows the calibrator to be computer controlled for automated testing.
Big Discounts - Call us for pricing. 480-947-9003

IVC222HPII Data Sheet
Call us at 480-947-9003 for more information or for a discount quote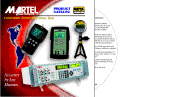 Call us today at 480-947-9003 for a FREE catalog on CD.