The Chelsea Polaris Collection of Clocks


The perfect blend of elegant watch styling and classic clock design, this collection features a matte and frosted silver dial with bold cobalt blue numerals. Available in a stunning highly polished brass or chrome finish, with matching barometers and tide instruments.
Call us: 480-947-9003 or use the email link on the
Contact
page


Polaris Clock

Click "add to cart" for price.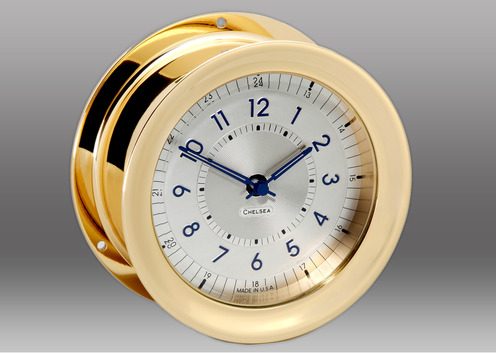 Forged solid brass. Features a 4.5-inch precision etched silver toned dial, with contrasting frosted and matte areas providing visual interest and readability. Dramatic raised cobalt blue enamel numerals, black enamel 12 and 24 hour markings and bold sport-style hands add to the distinctive and unique style of the dial. Traditional bezel, beveled glass. Two year warranty.
Dimensions (in inches): 5.75 × 5.75 × 2.5 Free Shipping
#40135
, 4.5", Quartz Movement,
Silver 12/24 Dial,
Brass Finish. Suggested Retail: $600. (Add To Cart for price.)
Free Shipping
Matching Polaris Barometer

Click "add to cart" for price.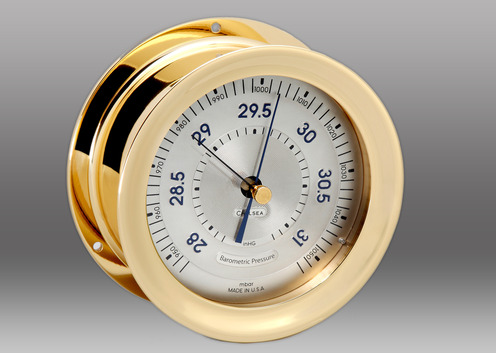 Forged solid brass. Features a 4.5-inch precision etched silver toned dial, with contrasting frosted and matte areas providing visual interest and readability. Dramatic raised cobalt blue enamel numerals, black enamel 12 and 24 hour markings and bold sport-style hands add to the distinctive and unique style of the dial. Traditional bezel, beveled glass. Two year warranty.
Dimensions (in inches): 5.75 × 5.75 × 2.5 Free Shipping
#40133
, 4.5", Matching Polaris Barometer,
Silver 12/24 Dial,
BrassFinish. Suggested Retail: $600. (Add To Cart for price.)
Free Shipping