John Crabtree
Certified Master Watchmaker since 1975

Sonoran Technical Institute
Serving Clients Worldwide.

Restoration of fine antique American
pocket watches
is a specialty.
With over forty years of experience in fine clock repair, I am able to offer my clients professional clock repair, fine watch repair and timely service at reasonable rates.
I specialize in complete mechanical and cosmetic restorations of fine timepieces.


I am an Authorized Agent of the
Chelsea Factory Repair Center
and I am also a factory-authorized
Howard-Miller Factory Service Center.
I also service brands such as
Urgos, Hermle, Ridgeway, Herschede, Sligh
and
Kieninger and Hermle
movements found in many brands of clocks as well as countless other modern and antique movements
.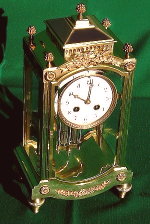 The
French Crystal Regulator
clock shown at right is one example of a
complete mechanical and cosmetic restoration
. This clock was very tarnished with age and the accent pieces had lost their gold plate over the years. I completely restored this piece, including re-gilding the golden accessory pieces in my own shop and refinishing all 79 brass pieces making up the case. The movement was similarly restored to like-new mechanical condition.
This
Hamilton Model 21
marine chronometer (left) is another example of meticulous mechanical and cosmetic restoration Every part down to the last case screw was refinished to bring this instrument back to eye-pleasing condition. These delicate instruments can be brought back to top condition and can meet the 1948 US Navy specifications for performance once again.
I occasionally have marine chronometers
FOR SALE
. Contact me for more information.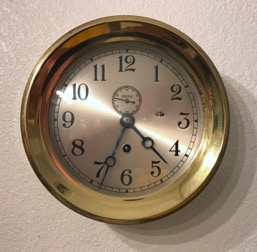 This
Chelsea 17E
Navy clock (above) was a complete wreck having been under water for a time. I restored not only the movement but the dial and case and heat-blued the hands using an old world technique to give it a rich, proper and original look. The movement required extensive restoration work to repair the escapement and correct years of neglect. Today the clock keeps time like it did when it was built in 1939.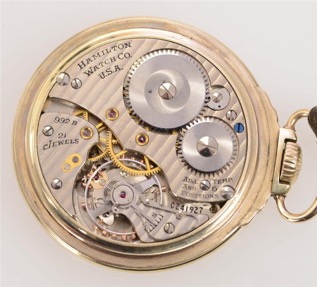 This Hamilton 992B railroad watch (above) was carefully repaired and restored for a client. I have years of experience with fine American railroad watches made by Hamilton, Elgin, Waltham, Illinois, Hampden, Howard and many others. Working on these watches requires special tools, skill and knowledge but with proper care they can still outperform most new Swiss precision wristwatches.
I repair grandfather, grandmother, cuckoo, mantle and wall clocks. Antiques are a specialty. To discuss repair and/or restoration of your fine clock, please call me at
480-947-9003
. I may also be reached easily via email. Click on the email icon to send me a message.